Back in 2008 I would spend some of my Sat­ur­day after­noons sit­ting in a Laun­dro­mat, wait­ing for my clothes to smell good. I quickly real­ized these moments were per­fect to bring my lap­top with me and code. One of the first AIR apps I wrote was Shrink O'Matic, now you know where the name comes from.
It quickly became suc­cess­ful. It now has been down­loaded 168,000+ times, a best-seller of sorts. Except it's free.
But with suc­cess comes feed­back, and with feed­back comes fea­ture sug­ges­tions. Most of them were included through updates, some of them didn't make the cut. Prob­a­bly because of me being lazy or because of AIR's limitations.
Then AIR 2 came out, then I learnt Robot­legs… So I re-wrote it from scratch! Intro­duc­ing Shrink O'Matic 2, the same quick and sim­ple app but with more fea­tures and a nicer theme.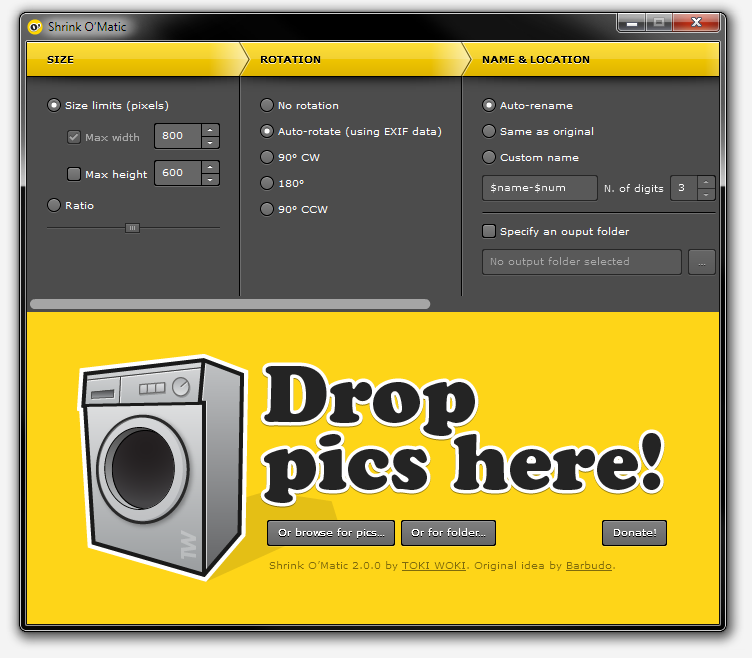 Here's what's fresh off the oven:
Drop fold­ers onto the app: every image in it (or in its sub-folders) will be shrinked.
New "Rota­tion" set­tings pane: either use a spe­cific angle or let the app read your images' EXIF data and decide what to do.
Cus­tom name option: choose exactly what the out­put name will be using your own pat­tern and inject­ing the orig­i­nal file's name (using $name) and/or its posi­tion in the queue (using $num).
PNG files now keep their trans­parency when shrinked.
Water­mark: water­mark your images, even choose where to place the overlay.
Drop files onto the app while it's pro­cess­ing, no problemo!
No more dimen­sion limits.
Shiny new theme!
But! I decided some fea­tures had to go. I removed the "name pre­view" that used to be in the sta­tus bar. I also removed the abil­ity to drop images from web pages. If you need these fea­tures and want them back, make sure to drop a com­ment and let me know!
That's it, go get it!