Meet Dok, my latest and nicest AIR app to this day!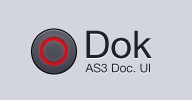 Always looking for help when writing AS3 for Flash, Flex and AIR? Think Adobe's reference is rich but browsing it sucks? Well, I did too. So I wrote this little thingy that loads, parses and caches help pages and then presents them in a slick and quick UI!
Since this app is only intended for devs and therefore may not be very interesting to others, I decided it should look good. So I tried my best and worked hard on those pixels and styles (colors and textures inspired by that sweet clock)… Jump to the project page for life-size screenshot!
This project is absolutely OpenSource, from top to bottom. AS3 classes, MXML, Illustrator and Photoshop files, PNGs and so on… Help yourself.