Remem­ber Kwot, my Flash quote viewer? I pub­lished it back in Decem­ber 2008.
It is a mix of Flash (most part of it), JS (for the add form and its com­mu­ni­ca­tion with the main UI) and PHP (CRUD logic). Read the blog post for more details on it.
I recently started look­ing at JavaScript frame­works and tools, prob­a­bly like most Flash devel­op­ers. Not because Flash is dead, but because the more tools you mas­ter, the bet­ter you are. And because yes, every­one is ask­ing for JS and CSS3 these days. After some inves­ti­ga­tion I decided to give Backbone.js a try. And re-writing Kwot from scratch with it seemed like a great exer­cis­ing opportunity.
So here its: Kwot JS!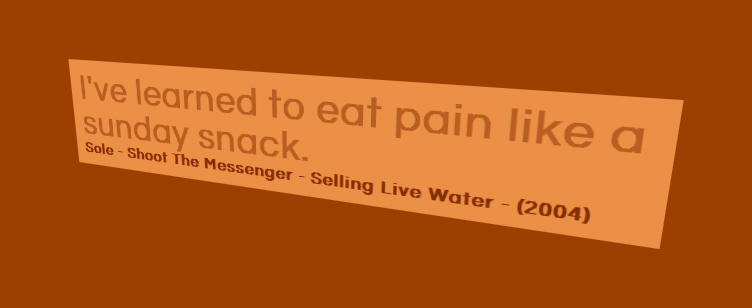 It should work really well on Safari, OK on Chrome, not-that-perfect on Fire­fox and poorly on Inter­net Explorer. You were look­ing for a rea­son to con­tinue using Flash for build­ing "expe­ri­ence sites"? There you have it: com­pat­i­bil­ity. Kwot JS relies on CSS3 trans­forms to allow this per­spec­tive view on quotes, and on prop­erty tran­si­tions to ani­mate the quotes' col­ors. Of course this doesn't work in all browsers!
Now, about Backbone.js. The framework's require­ments and logic are good, but com­ing from an AS3 world mostly every­thing looks odd, for bet­ter or worse. Note this is my first project with it and I might have missed some good prac­tices or handy tips.
The good thing is its per­sis­tence layer. In Kwot, quotes are stored in a data­base, I sim­ply wrote a sim­ple REST­ful API with Slim (try this PHP frame­work: win) and con­nected it to my Model classes. That's it, it just works. Underscore.js' tem­plat­ing sys­tem is hand­some, too. Never used that before, cool stuff.
The bad things are, as far as I'm concerned:
No strong typ­ing. Of course this isn't Backbone's prob­lem, but rather JS' one. On this par­tic­u­lar point your IDE can help, but you won't get run­time errors.
The "this" key­word. You always end up with plenty of lines all start­ing with a "this.something". It frus­trates me.
Scope issues: when lis­ten­ing to events you pretty much always have to use Underscore.js' bind method in order not to lose your infa­mous "this" scope. I don't like that.
The MVC pat­tern. If you ask me: it sucks. I'm no inte­grist but I wouldn't have called what Back­bone pro­vides MVC. I was always won­der­ing "who should do that?" and never really came up with a sat­is­fy­ing answer.
Over­all the learn­ing curve is pretty steep, I think it took me less time to write this ver­sion than the Flash one, but I'm a 3 year more mature devel­oper. Also, when I wrote the Flash ver­sion I didn't really know where I was going and I kept expe­ri­enc­ing with con­cepts and ideas to see what would look best.
On a side note the Flash ver­sion uses Neu­tra, whereas this one uses Ques­trial (hosted and served by Google Webfonts).
Tell me what you think, both about the app and the framework!