Some projects become real, oth­ers never see the light of day. This one is more of an abortion.
Six month ago I've been con­tacted by an archi­tec­tural firm to pro­vide some con­sult­ing on a project of theirs (I'm not going to name names, you'll under­stand why). The goal was to find ideas to make a building's front more inter­est­ing. The build­ing being a place to help and pro­mote Hip-Hop culture.
So I started work­ing on it and came up with ideas and con­cepts. The archi­tect I was in con­tact with seemed pretty happy with it and every­thing was look­ing good.
Until I no longer received any answer to my e-mails… Our last inter­ac­tion is now 5 month old and I think time has come to mourn. What I came up with can be inter­est­ing and since it involves an Open­Source project, here are a few bits about it.
At that time I was dis­cov­er­ing GML (Graf­fiti Markup Lan­guage) and Evan Roth's work. Bor­deaux hosted Les Grandes Tra­ver­sées and all of this really inspired me. So I thought of a mash-up between GML's #000000book (black book, open archive of GML tags), a player of my own (Okr), the build­ing itself and Twit­ter. Here's the doc­u­ment I pre­sented to explain what I had in mind.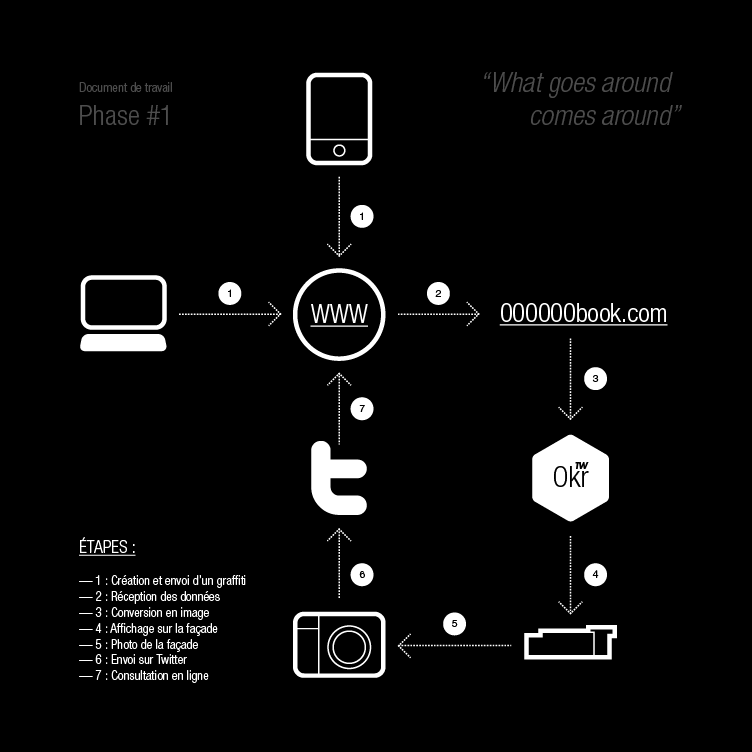 The steps are:
Cre­at­ing and send­ing a graffiti;
Receiv­ing data;
Con­vert­ing it to an image;
Pro­ject­ing it on the building's front;
Photo-shooting of the front;
Send­ing to Twitter;
Online con­sul­ta­tion.
After a few e-mails with Jamie Wilkin­son (heads up!) I started work­ing on the core classes writ­ing GMLPlayer and GML­Cre­ator. The goal was to pro­vide both a way to dis­play tags and to create/upload them. I then built a UI around all that (a Flex one, after notic­ing Min­i­mal Comps didn't work the way I expected).
Note: you'll also find the app on its ded­i­cated page. Try search­ing for "dasp" or "hello world" for exam­ple and play with the set­tings (the 3 top sliders).
Unfor­tu­nately it is only after cre­at­ing all this that I real­ized the project would never become real… So I sim­ply stopped work­ing on it. I am well aware that some parts of the code is a bit raw and could be opti­mized and I haven't built the creation/upload fea­ture into the UI yet. Don't know if I will, but the project is Open­Source so feel free to give it a spin! I also share my ini­tial attempt and a pixel ver­sion in case you're interested.
Pretty happy that — even if not fea­ture com­plete — Okr made it to the GML project gallery, yay!
And just because a project will never see the light of day doesn't mean it doesn't need a proper logo, right?