Word­Press' Short­code API is a really cool thing, and since I'm work­ing on a Dru­pal site these days I've been look­ing for some­thing sim­i­lar. Unfor­tu­nately I couldn't find any­thing… There are some imple­men­ta­tions out there but the ones I found and tested always come pre-bundled with spe­cific tags and don't always pro­vide an exten­si­ble and sta­ble logic.
So I made mine!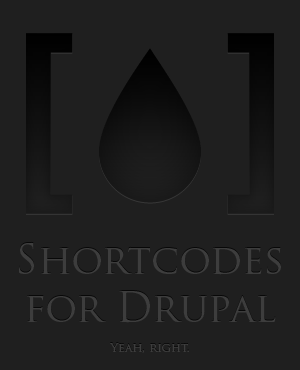 Most of my work sim­ply con­sisted in copying/pasting the code in Word­Press' shortcodes.php and bind­ing it into a Dru­pal fil­ter. Easy enough.
Now if you want to use it, you have to:
Add it to your "mod­ules" directory
Enable it
Add it to one of your setup's fil­ter bundle
Write your own mod­ule where you'd imple­ment one or more Short­codes (via add_shortcode) and make sure you add "depen­den­cies[] = short­codes" in your .info file
You might expe­ri­ence a nasty "Call to unde­fined func­tion add_shortcode". If so, you have to change you mod­ule implementation's weight, either directly in your data­base, or thanks to the cool Util­ity mod­ule. Set it to 10 and you're set!