When writ­ing in French I'm always look­ing for char­ac­ters that can't be eas­ily typed with a key­board (like œ, for exam­ple). I used to go to copypastecharacter.com for its sim­plic­ity: just go to that page, click on a char­ac­ter and boom, it's in your clip­board, ready to be pasted!
But I wanted some­thing more powerful/thorough that would remem­ber my fre­quently used char­ac­ters. So I wrote Uni­pasta!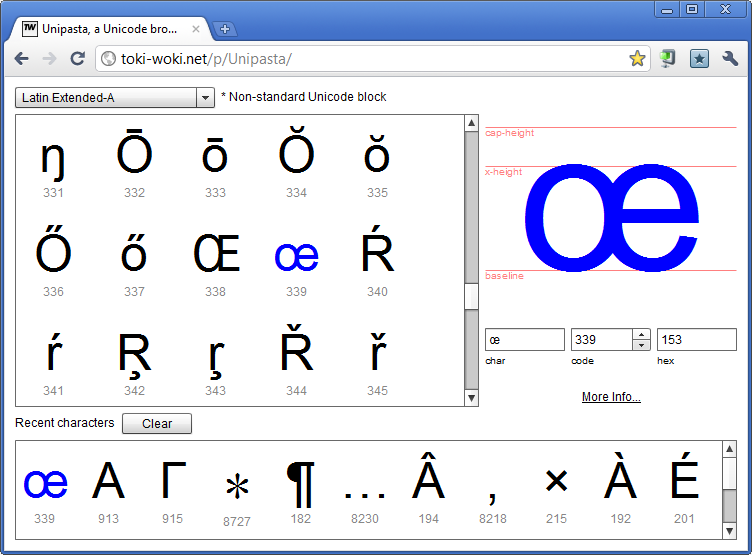 Here's what you should know about it:
Every input under the selected char­ac­ter (char, code and hex) can be edited and will update each other. Eas­ily jump to any character!
The font met­rics (base­line, x-height and cap-height) are auto-calculated and will help you know where the char lives;
Click on the "More Info" link to jump to fileformat.info and access a lot of details about the selected character;
Every char­ac­ter your click will be auto­mat­i­cally copied to your clip­board, handy!
Use the "Recent char­ac­ters" list to quickly access your favorite ones (lat­est used will always be listed first).
If you think some miss­ing Uni­code blocks are impor­tant to you or if you'd like to add a new char­ac­ter list­ing, just ask for it!